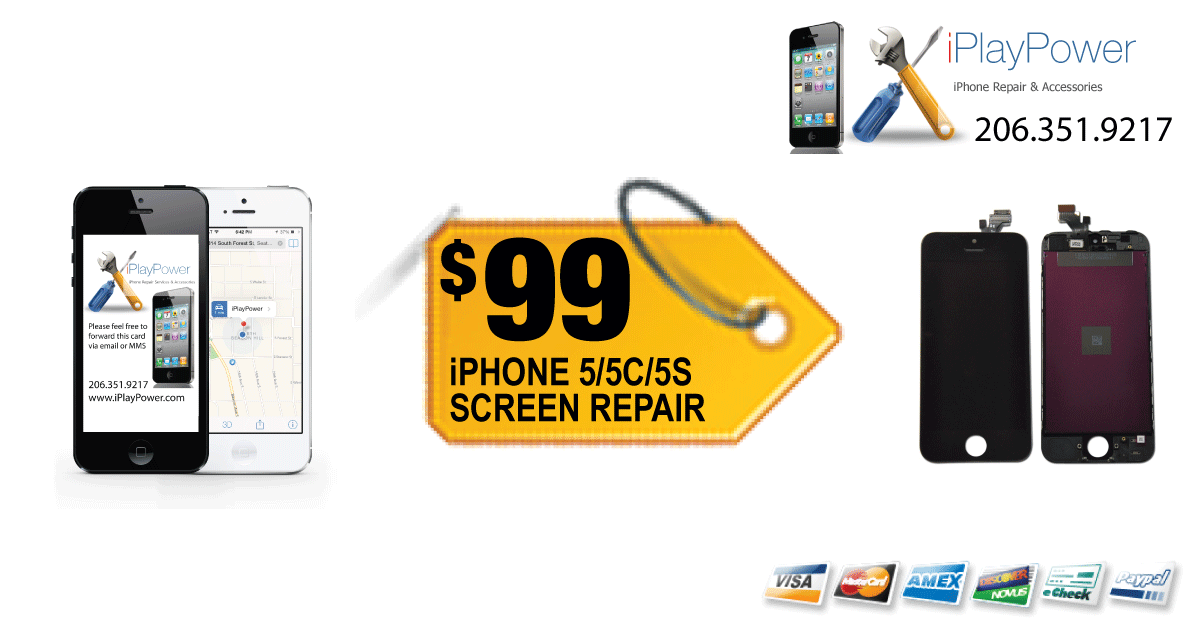 Apple iPhone 5C and 5S Glass Screen Repair Info
iPlayPower is experienced and very affordable. We offer a 90 day warranty on all repairs except for physical damage. Don´t risk losing your valuable pictures and contacts with inexperienced repair people. iPlayPower has been in business since the very first iPhone. That is seven years of iPhone repair experience! Most repairs can be done in under 30 minutes.
Front screen replacements for the iPhone 5C and 5S is just $89. We also repair home buttons ($40), batteries ($40), speakers ($40), cameras ($40), data & charging ports ($60) and more.
Get your Apple iPhone repaired the right way TODAY at a very reasonable price.
This repair includes all touchscreen components repaired or replaced with O.E.M. iPhone replacement screen parts. Each replacement touchscreen is tested before installation. iPlayPower can save you money and give your iPhone a brand new look. All repairs come with a 90 day parts warranty and is backed by strong customer satisfaction.
Come visit iPlayPower and have your iPhone screen repair done in under 30 minutes. You are welcome to wait, or drop off your iPhone for repair services. Cash, credit and debit cards are accepted.
Mailing and Location Address
iPlayPower
1814 S. Forest St.
Seattle,WA 98144
iPlayPower Hours
Monday - Friday: 10:00 A.M. - 7:00 P.M.
Saturday - Sunday: 10:00 A.M. - 5:00 P.M.